Finding a good quality hunting jacket can sometimes be a headache. Size, colour, features, weight and cost all come into the equation as well as the terrain that you are hunting in.
Over the winter 2016, I did a fair bit of possum trapping and shooting and with the sale of fur and possum carcasses for dog tucker I made myself a bit of cash. I had been eyeing up the Stoney Creek 'Big Dog' jacket for some time so with some of my hard earned money I put it to good use and bought it. I couldn't help but notice its design and features. It was tough, durable, and windproof, but like anything it needs to be taken out, put through its paces and tested to see how it really performs. So over the last few months I have given this product a thrashing. I've taken it through some pretty unforgiving terrain with heavy loads on my back. From thick scrub to wet dense bush this jacket has seen it all…
So how did it perform?
This ultra tough jacket survived and stood up to the test without any issues. The Big Dog's outer layer is made from Stoney Creeks toughest 100% windproof fabric
and is DWR coated to repel water, blood and dirt. This really makes a difference when your out in the open country and its blowing a gale. The Big Dog has a brushed
fleece inner for maximum comfort and warmth, perfect for those ice cold frosty morning hunts. I've been wearing this jacket when its raining and although it isn't 100%
waterproof it does a great job at keeping you warm and dry. It also has an extra protective 1000D Oxford Nylon cape which is ultra tough, PU coated and is 100% waterproof. This will shield your shoulders and back from any blood or dirt which is a game changer, this is one of my favourite features of this jacket. No more blood running down your back!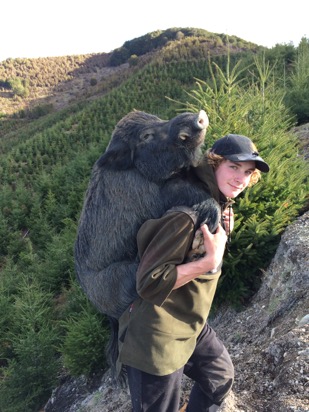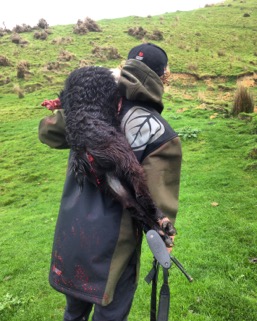 Features
This jacket has some real neat features that help The Big Dog stand out from the rest with a chest mounted RT/GPS holder which allows you to have your electronics close by. This holder has a buckle to make sure your electronics are secure and to minimise the risk of them being ripped out of the holder when your pushing through scrub. I have also found this holder useful for holding my rangefinder as it fits perfectly and only takes a few seconds to get it out to range an animal. This jacket has heaps of storage space. It has a huge pocket on the front which is ideal for stashing away your binoculars with easy access from the top. It also has two large hand warming pockets which would easily fit a headlight and a beanie. These pockets are all zipped so you don't lose any gear. Another feature with this jacket is it has an extra long tail which is really handy while your out glassing a clearing with your binoculars, you can pull it up and sit on it to keep your pants dry. It also helps the blood run off on to the ground instead of running down your legs. The durable lace up front is a winner because you don't have to worry about zips breaking or getting stuck, all you have to do is pull the draw strings tight and your sorted. It also features a hood for added protection for when your pushing through thick bush. With all these
features the jacket performed as it should and kept me dry, warm, and sheltered from the wind. The Big Dog comes in one colour way - Bayleaf/Black.

Overall view of The Big Dog
To be honest this has got to be my favourite clothing purchase I have made. Its stood up to the test and has lived up to its name. I have been very impressed by this jacket. I've pushed through some brutal scrub and sharp pointy manuka and the jacket has suffered no damage. This thing is bombproof and it isn't a super heavy jacket with it weighing in at 1000 grams. The membrane in this jacket is highly breathable, trapping warm air in and blocking cold air and rain out. The Big Dog is a great jacket for on the hill, in the high country chasing tusky boars or charging through the bush. If you want a ultra tough, 100% windproof, breathable, water repellent hunting jacket, have a look at Stoney Creeks Big Dog. It is the ultimate hunters jacket that can take a beating and it wont break the bank. I'd highly recommend it and you wont be disappointed.
Zac Rayward - WILDGAME NZ
Stoney Creek Gear is very good product.
Showing 1 to 1 of 1 (1 Pages)